The Dolly's Dream Adoption Program began in 2015 to help dispel the negative myths about bully-breed dogs. Thanks to a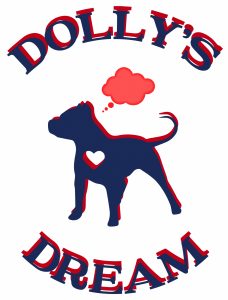 generous grant from the Levitetz Family Foundation, we are able to carry on this effort by waiving the adoption fee for two selected Dolly's Dream dogs each month. In addition, these often misunderstood dogs will go to their new homes with a wire crate, a bed, a leash and collar, toys, treats, bowls, and a 7-week obedience training package. We hope for the day when we don't need to provide an incentive for someone to adopt a dog, but until that happens, we have Dolly's Dream!
Lisa and Onix – our current Dolly's Dream dogs!
Cherry has been with us since August, when she was picked up running loose in Deltona. She had several injuries to her face, so we think she was attacked by something. Because of this, Cherry is sensitive to her face being touched by other dogs or anything that's too rambunctious. With proper introductions and confidence that she won't be attacked again, we think Cherry can live with another dog. Our volunteers usually request her for offsite events, because she does so well. 
Onix is a 1 1/2 year old who came to us a stray in April. At that time it appeared she recently had puppies. She's shy at first but eventually opens up and loves people of all ages. Onix is dog selective, so she can go on walks with other dogs but isn't able to play off-leash just yet. She did well in a couple of meet-and-greets with other dogs, but the adopters ended up selecting someone else.