"Amazing staff and a wonderful place"
Elsie has been adopted and her new family couldn't be happier!
Pepe was brought into our facility as a stray animal in quite the horrendous condition. Even for experienced staff members, it was hard to see this kind of neglect. We rushed Pepe immediately to a local veterinarian and had him put under anesthesia so we could get a good look at his eye. What we found next was heartbreaking.  He had glass in his eye from a beer bottle, gum in his tail, and was severely matted and neglected.  A great family saw Pepe on our Facebook page and have since adopted him and things are going great!  See him now (right) in his PJs!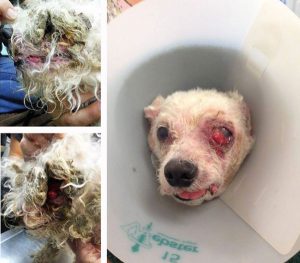 Honey came into our facility back in November as a stray. A few months after having Honey, we found out that she has Lymphoma and it has spread halfway through her body. We came to the decision that we would let Honey live out her life until she was ready to go. Four months later, and Honey is still the Queen of the shelter :).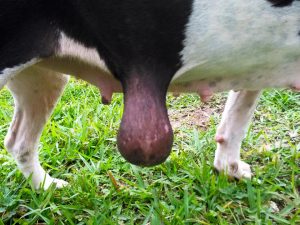 Bella Needs a Loving Family
Bella came into our facility in January as part of a fighting case. Bella was extremely underweight and had fresh and old wounds all over her face. Bella has since gained 30 pounds and has a wonderful passion of agility! Bella is currently up for adoption as an "Only Pet", due to the past that was forced on her. Bella LOVES water, people, food, and to play fetch! Bella is currently at an undisclosed location due to the severity of her case. While Bella was not the only dog we received from that case, she is the last to leave our care. We want nothing more than for Bella to have her "Furever" home! We will help assist with training throughout the transition period of moving into her new home! Could you be the adopter we are looking for? For more information on Bella, please E-mail us at sevhumanesociety@gmail.com.
"Maddie is an amazing doggie. We are together all the time! She was completely house trained upon adoption and has the best manners! Thank you for taking such great care of her until we found each other."
"Lilly is a happy, charming 3-year-old who still has some puppy in her. She is sensitive to my husband who suffers from PTSD. Always by his side, she is just a lovely dog, and we are so happy to have her in our home."
"Jada is a Rhodesian Ridgeback mix, and she is smart, faithful and loving. She is AWESOME, we are both so grateful that our family is now complete. Rescues are THE BEST!
"Mika loves to cuddle and play with her flamingo toy. I know she loves her new home, and I enjoy having her even more. Adopting from SEVHS was the best thing I ever did!"